Growing up I spent summers with my abuelitos in Brownsville, and our Sunday morning visits to the panadería are a cherished memory. My sisters and I would quickly put on our shoes, tighten our ponytails and run to Abuelito Angel's car. At the end of the five-minute drive, my grandfather would park and walk us into the bakery. The aroma was intoxicating.
Like most panaderías, this one was self-serve, so my abuelo would grab a pair of tongs and a silver charola (tray) before he set us free. My sister would slowly pace the aisle, studying the colorful displays on each shelf. I, on the other hand, knew exactly what I wanted: two cereal-crusted galletas with the jelly center. They were my favorite then, and they still are.
I would point to the galletas, and my abuelito would smile because he knew they were my favorite. To this day visiting a panadería reminds me of my late grandfather.
Visiting a local panadería to buy pan dulce is a tradition we deeply love in our Mexican American culture. We enjoy pan dulce throughout the week with our morning café or for merienda (afternoon snack), and these special pastries are a major part of our holiday celebrations. Because panaderías are part of our daily lives, the folks at our local bakeries are part of our familia. We know them all, and when we stop in, we chat about our day, our children and life in general. Because we are a family, the pan dulce tastes that much sweeter.
Every panadería has its regulars who want to keep the tradition of enjoying pan dulce alive for their children and grandchildren. They have their favorite pan dulce selections and arrive early to fill their bags.
Pan dulce translates literally as sweet bread and includes a vast array of pastries that vary dramatically in size, shape, texture and flavor. My experience suggests there are several hundred varieties.
Canda LePage of Brownsville says pan dulce conjures up fond memories about family time and being a carefree kid for her, too. "It's also a very intergenerational thing," she says, describing her grandmother, who was born in Mexico and does not speak English. "I have very few things in common with her," LePage says, "but when I bring out the pan dulce and coffee, she'll start sharing stories of her youth. It's my favorite time with her."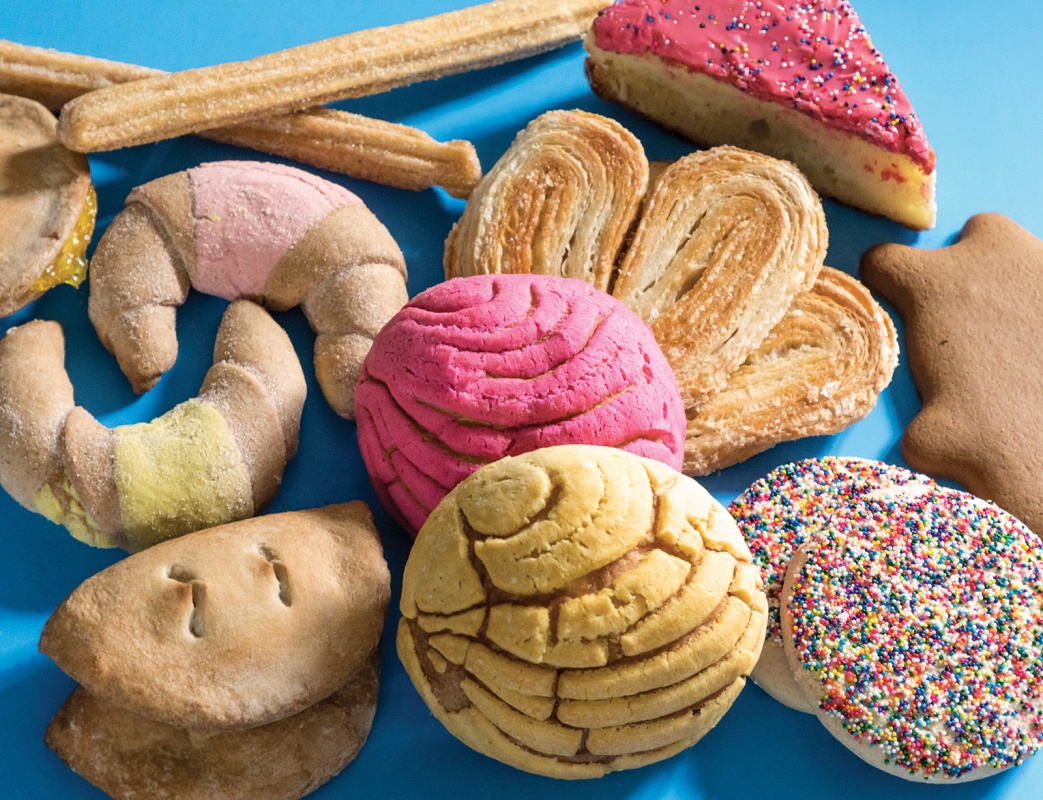 Pan dulce was originally heavily influenced by French baking techniques that Mexican bakers began to experiment with after May 1862, when the French were defeated at the Battle of Puebla. Bakers began incorporating indigenous ingredients such as canela (cinnamon), fresh-ground corn flour, Mexican vanilla, piloncillo (unrefined brown sugar), chocolate, nuts and native fruits. With shapes like marranitos (piggies), bigotes (mustaches) and ojo de buey (ox eyes), each baker gives a nod to his or her culture. These shapes became the beloved names of the pan dulce we love today.
And while that traditional character will always remain, the bakers of today are continuing to put their own mark on pan dulce culture.
Amanda Nolan, owner of Sweet Craft Vegan in Brownsville, scheduled the opening of her new storefront in early 2020. Though she, too, describes childhood visits to the panadería as an awesome experience and a special memory, her mother was very health-conscious, so she decided to learn how to make a healthier version of her favorite pastries. Vegan pan dulce was not readily available in South Texas, so she decided to teach herself.
Baking became an obsession for Nolan. She honed her baking skills at Linda's Cakes & Desserts, a Brownsville bakery, and pitched owner Andrea Bernes on the idea of selling vegan pan dulce at the shop. The owner gave her the OK. So Nolan began sharing her creations on social media, and soon her vegan conchas (seashells) were scooped up by the dozen. Because they do not use any preservatives, her pastries must be sold each day, so calculating exact ingredients is essential to meeting demand.
Just as enjoying pan dulce is multigenerational, baking the special pastries also is often shared among family. I interviewed one Brownsville baker who worked in his family's panadería for more than 25 years, learning the skill from his father and uncle.
Another Brownsville baker whose entire family works in the panadería tells me that one of his primary goals for this year has been not just to stay in business but to protect his family and employees during the COVID-19 pandemic—and to protect his customers, too. "We want them to bring their grandchildren into the panadería," he says.
Throughout my travels in South Texas, I have visited many panaderías that have become near and dear to my heart and have helped me keep my abuelito's memory alive. I encourage everyone to visit a neighborhood panadería and meet the talented bakers carrying on this beloved tradition. Visit, enjoy the aromas and fill up your tray with these irresistible special pastries. I promise you will not be disappointed.
Les mando amor y pan dulce. (I send them love and pan dulce.)
Vianney's Pan Dulce Favorites
Bisquette This savory and sweet treat is more dense than the typical biscuit—often enjoyed with butter or jam.
Churros Dough squeezed into star-shaped sticks and fried; crisp churros are rolled in sugar. Some are filled with dulce de leche or cajeta (caramelized sugar) and are best dipped in steaming mugs of Mexican hot chocolate.
Concha This sweet bread, named for seashells, is a sugar crust pastry that varies in color and flavor at each panadería.
Cortadillo Also known as pastel de niños, this popular yellow cake is topped with pink icing and sprinkles, then sliced into triangles.
Cuernito The flaky "little horn" is brushed with egg and dusted with sugar and sometimes filled with chocolate.
Elote Anise- or cinnamon-scented dough filled with orange cinnamon cream, baked, then rolled in sugar while warm from the oven.
Empanada Always quick to sell out, an empanada is a crescent-shaped turnover of flaky dough filled with pineapple, pumpkin, cajeta or apples.
Mantecado This is the muffin version of a pound cake and most often found in red wrappers.
Maranito A pig-shaped cookie made from a cakelike dough similar to gingerbread but actually flavored with piloncillo (unrefined brown sugar).
Niño Envuelto This "wrapped child" is similar to a jelly roll made from cake topped with a layer of strawberry jelly, rolled and then topped with more jelly and shredded coconut.
Oreja An "ear" made from flaky dough that is brushed with butter and sprinkled with sugar to look like a French palmier. Most often enjoyed with afternoon café.
Polvorone or Galleta This firm, crumbly cookie can be found in an assortment of colors and flavors. Variations include tricolores (three colors), sandía (watermelon), grageas (with sprinkles), rosas (pink) and—my favorite—cereal-crusted galleta with jelly.
Vianney Rodriguez of Brownsville is a food blogger, recipe developer and the author of The Tex-Mex Slow Cooker. See more of her work at sweetlifebake.com.