An excited Salye Coles and her husband were driving six hours from their West Texas ranch to a Bureau of Land Management facility in Oklahoma. They were headed north last May to pick up a bay mustang gelding, tag No. 3345—a wild horse that had been collected by the BLM as part of an emergency gathering of the animals in the Jackson Mountains of northern Nevada.
In a random drawing, the horse was assigned to Coles, who lives in Sterling City, northwest of San Angelo. She was to train him and make him fit for adoption.
When Coles saw the horse, she almost cried.
"He was at least 250 pounds underweight, so skinny that his ribs were showing," she says. "His coat was dull, and his mane was matted in knots."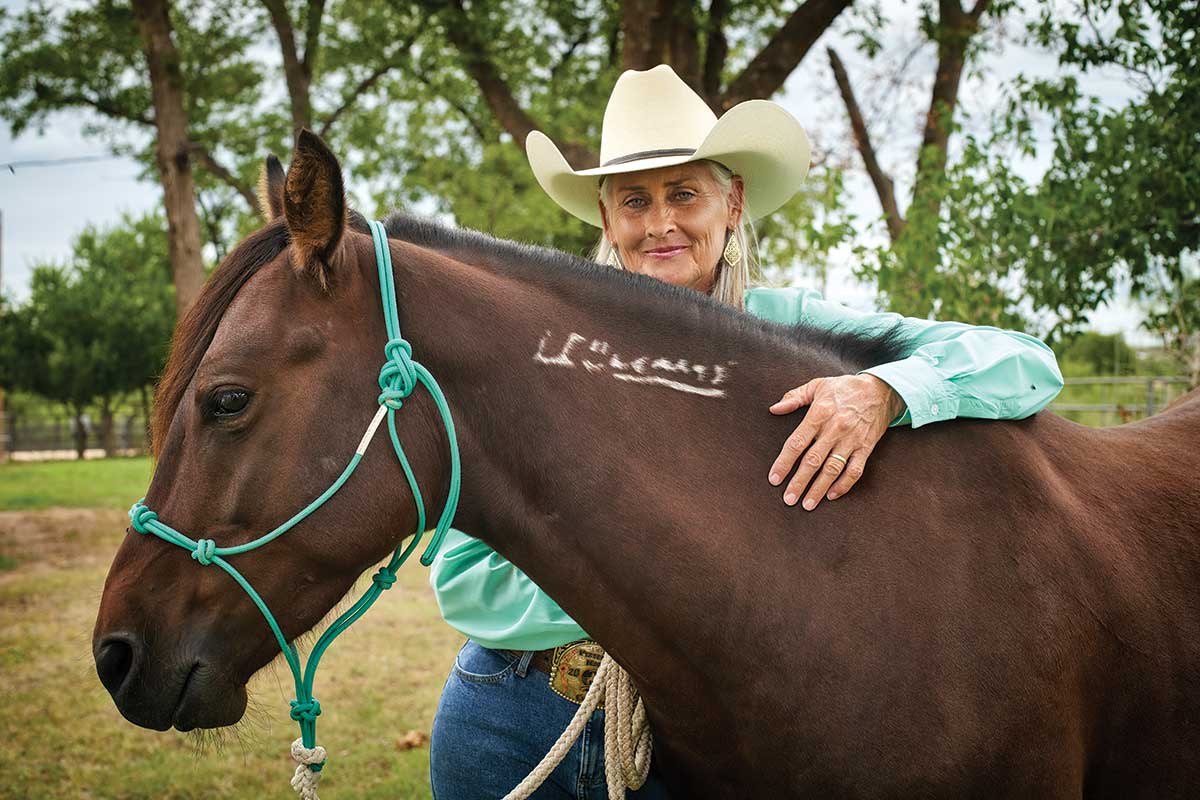 The listless mustang's demeanor worried her even more. "He was so dejected, so withdrawn. He didn't look at me or show interest in anything."
Droughts in the 10 Western states where mustangs roam free have caused a shortage of not just water but also the grass that sustains them. As conditions worsen, the BLM gathers horses to be cared for and eventually adopted.
Most of these wild animals have been under the protection of the federal agency since 1971. More than 20,000 wild horses have been adopted since then, but 50,000 under BLM protection still need homes.
The Mustang Heritage Foundation, based in Round Rock, has partnered with the BLM since 2006 to train and home thousands of these animals. The nonprofit works with horse trainers like Coles in 40 states.
Coles, a retired schoolteacher, is an experienced horsewoman. She trail rides on her two other mustangs and two quarter horses. Still she wondered if she could give the poor mustang in Oklahoma all the care and training he needed. She had only 100 days to get him ready for a Fort Worth adoption event in August.
After seeing its grim condition, Glenn Coles asked his wife if she still wanted to take the horse home.
Coles had prayed that she would get the right mustang for her. So she told her husband yes, that she felt at peace with the decision.
On their drive home, Ann Souders of the MHF called. She had already found an adopter: Dale Long wanted him as an equine therapy horse at his Western Cross Ranch in Azle.
A biblical name for the horse seemed appropriate to both women. When Souders suggested Joshua, Coles knew that was the right name. The mustang would have a battle to overcome his poor physical and mental state.
Back home, Coles started earning Joshua's trust. It took 10 days before he allowed her to touch his neck. Another week before she could untie the BLM tag around his neck. Still more days until he let her put on his halter.
Gradually Joshua started nickering to Coles, indicating he was glad to see her. In the third week of July, she was finally able to saddle and ride him.
"A mustang is a clean slate, no pretenses," Coles says. "They're the most honest animals I've ever been around. They're smart, and they analyze every single thing."
What does it mean to bond with a horse that once ran wild and free? Coles says that she most enjoys gaining a mustang's trust. "To watch them willingly give up that wildness, to trust you, is amazing," she says. When people ask how she can bear to give up this mustang she has nursed back to health and grown to love, Coles tells them she knows Joshua is going to a wonderful home.
"His purpose is to help people who are struggling and fighting back," she says. "He has had to fight a battle too."
Beyond the Finish Line
Of course, mustangs aren't the only horses in need of homes.
Tracy Sheffield's passion is thoroughbreds—her own and those that need help finding a life outside of racing.
Like the MHF, the Paddock Foundation, a charitable arm of the Texas Thoroughbred Association, advocates for these majestic animals. The nonprofit has placed hundreds of former and failed racehorses since March 2015—whether they raced for several years or didn't go to post even once, so-called off-track thoroughbreds.
"Since our first event, we have helped almost 200 thoroughbreds find new homes," says Sheffield, the Paddock Foundation's president who lives in Wimberley, southwest of Austin.
Some thoroughbreds, even if they descend from top racing bloodlines, don't do well in racing. Others have successful track careers cut short by injury. If the injury takes months to heal, the owner may decide it makes more financial sense to move the horse to a new owner and career.
To help new owners connect with these thoroughbreds, Sheffield, a Pedernales Electric Cooperative member who works as a business consultant for veterinary practices, established horse fairs called Roses to Ribbons. The roses represent racing, like those awarded at the Kentucky Derby, and the ribbons represent the awards given at shows and competitions—an analogy for these horses' transitions.
The events are held at Lone Star Park in Grand Prairie, Sam Houston Race Park in Houston and Retama Park near San Antonio. Two weeks before a meet ends, Sheffield visits with trainers to get details and photos of horses that need new homes. "Through social media—I belong to over 20 horse groups online—I post photos of the available thoroughbreds," she says.
Each fair is held before the day's racing starts and always draws a crowd. Trainers bring their horses to the paddock and talk directly with prospective adopters. Each adoption fee is a private sale by the trainer to the new owner.
"The horses have been well cared for," she says. "The trainers are very picky about who gets to adopt their horses [and can] refuse any sale. I have heard them tell prospective adopters, 'This horse isn't right for you.' " Sheffield herself has adopted two thoroughbreds. Eliot, a 12-year-old bay, showed no talent for racing. Now he competes in dressage and does trail riding. Sheffield says that Eliot isn't high-strung, as many thoroughbreds are.
"He is so trustworthy," she says. "He takes such good care of his rider. I've taught people who have never ridden to ride on Eliot."
Gus is 7 years old, has a dark coat and is like a friendly, curious puppy. He was training well for racing when he fractured a sesamoid bone near one foot. The bone healed after surgery, but because of his height, the trainer decided not to risk a second injury from racing that might have left him unsound for other riding. Now he does trail riding.
Thoroughbreds' speed makes them suitable for competitions. They do well in jumping, dressage and trail riding. Sheffield advises potential adopters to "think outside of the box with thoroughbreds.
"They can do well in the Western sports world, too, in Western dressage or barrel racing," she says. "The most sure-footed trail horse I've ever had was a thoroughbred."